Stuck in the confusion of interior styles? Take our quiz to find out which look you should be going for in your home.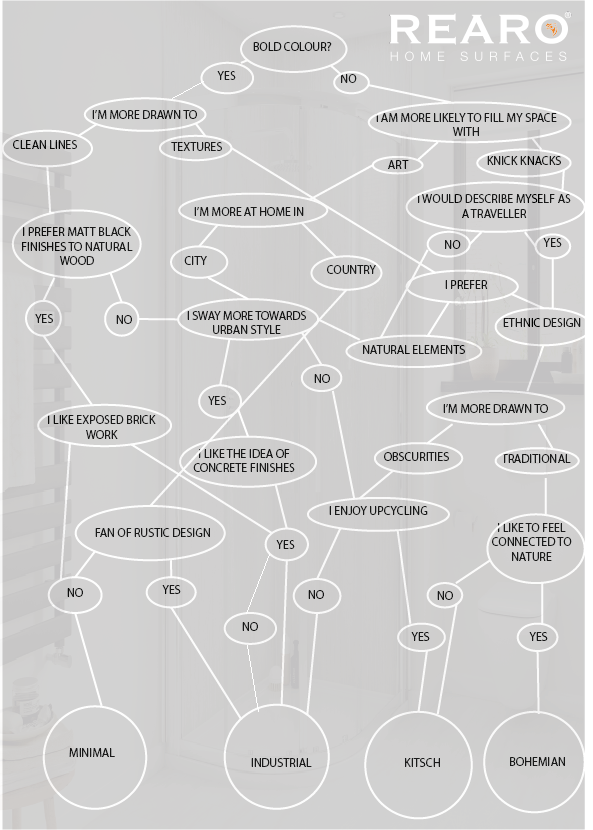 So, what do your results say about you?
MINIMALIST
You're not about possessions and enjoy a simple life, the same should be reflected in your home. Take on the less is more approach and work with a blank canvas white for your walls and floor. Your chosen accessories should be clean cut and placed with accurate precision, the ideal furniture choice would be modern and simplistic.
Highlighted products: Selkie Luna Marble, Structured White and Oyster Pixel
Clixeal Linear Grey and Light Concrete 
INDUSTRIAL
You like to bring the city indoors with concrete textures, exposed brickwork and rustic accessories. Everything in this style is about physically peeling back the look of the home and giving 'unfinished' some sheek.
Highlighted products: Selkie Textured Concrete and German Chalk
Clixeal Black Slate and Light Concrete
KITSCH
There's a little bit of your heart belonging to the 50s and you're a lover of colour. You're all about standing out from the crowd, attracting attention rather than going for a look that is to everyone else's taste. Kitsch styling is all about personalising and making sure your quirks are on display.
Highlighted Products: Selkie Salmon Wave, Raindrop and Lemongrass
BOHEMIAN
You're a free spirit, a lover of nature and the ethical when styling. Artisan rugs, dark wooden floors, Macramé and plant life are all at home with you.
Highlighted products: Selkie White Gloss 
Clixeal Traditional Vintage Oak and Antique White Oak