With a UK summer it can be rather inevitable that the hot sun is rather short lived and you won't be long in dashing back inside. However when the weather is finally warm enough to release the French doors or slide back the bi-folding frames, why not take advantage of it? A simple move of the kitchen table to the edge of the room will help create a completely waterproof dining area with minimal effort with all the benefits of the summer air.
Define zones in your garden by using roof structures or patio areas. In most cases choosing the right furniture can help tie the look together and create an easy transition from your physical kitchen to outdoor space.
Cooking in the garden has now progressed from the early days of the basic barbeque to full-scale outdoor kitchens. Why not have a specific cooking appliance built that can withstand the weather? Hang cooking utensils from racks and hooks fastened to the fence for a practical cooking solution.
We opted for two main themes, RUSTIC and WHITE, from which to base your new interior/ exterior kitchen.
Our Rustic design moodboard takes wooden, copper and texture effects as an interior route – featured here is our new Senses range in 'Ipanema White'. Accessories make use of nature items, as well as recycling garden tools as storage facilities. Keep your palette neutral to grey and beige tones with hues of orange and bronze.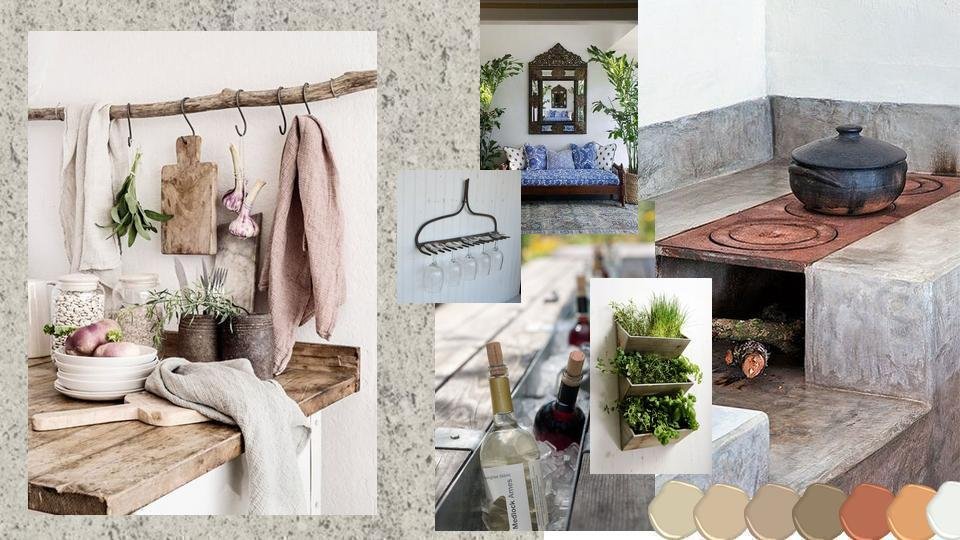 Rearo Rustic Top Picks:
Meanwhile our white palette does exactly what it says on the tin and sticks to a crisp and clean white palette. We suggest the addition of green foliage and matte black trims and fixtures to give a modern feel to the room.
Rearo White Palette Top Picks:
For more inspiration: https://www.pinterest.co.uk/rearom/exterior-dining-areas/