Kitchen design is straight forward in the context of selecting your ideal worktop, but what about when it comes to splashbacks and upstands?
They may seem an afterthought, but your choice can have a major impact on the finished look of your kitchen. They do not serve the sole purpose of protecting from grease and other spillages.
Upstands are deemed as a short border between your worktop and wall, usually measuring around 100-150mm in height. Regarding aesthetics, they are the perfect way to create some contrast. Take the below image for example, by creating a join between the edges of the synthetic wood decor and tile panels we take away any harshness and they can sit side by side.
Décor: GetaLit Ajaccio Oak
However, if statement is more your design method then cladding your full kitchen worktop area in a simultaneous décor is the way forward. Splashbacks ensure the continuance of a décor throughout your kitchen, giving the impression that you have invested in real wood and stone.
Décor: GetaLit Atacama Cherry Tree
If you can't make up your mind however, a combination is also a valid choice. Traditionally when using both, splashbacks would be placed behind the hob with the surrounding area then being fitted with upstands.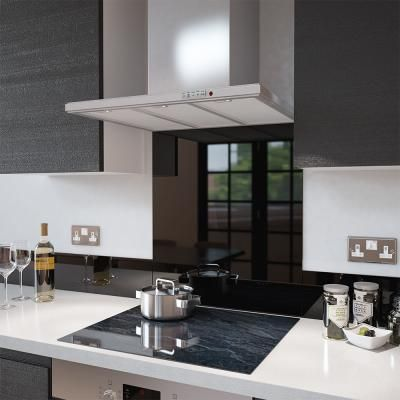 Image property of Pinterest
Rearo splashbacks and upstands are certified to the necessary fire protection and carry a ten-year guarantee, they do not need to be used in conjunction with glass or stainless steel.
To browse our full range of kitchen surfaces and matching accessories, please click here.
[*] Note that a minimum 55mm gap must be left between splashbacks/ upstands and the hob area to prevent scorch marks.