Today we'd like to extend our congratulations to our distribution partners William Wilson on the opening of their most recent branch in Glasgow.
Officially opened today, the new location within Houston Industrial Estate was welcomed in by a large delegation. Members from both Rearo's Sales and Marketing team (Glasgow and Inverness) with whom have a strong affiliation with the Wilsons brand extended their support to the most recent branch opening.
Pictured below (from left): Graham Mercer (Rearo MD), Ian Ashley (Product Manager at William Wilsons) and Kevin Nicoll (Rearo Sales Manager)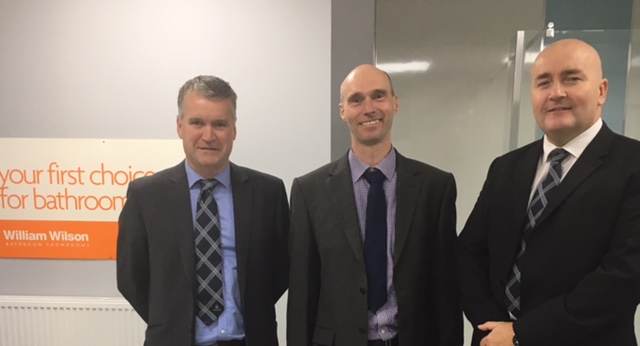 Currently selling our Selkie range with select designs on display, the showroom (designed by Andrew McLean) is a contemporary and modern space which highlights perfectly the ideal bathroom spaces.
Open to both trade and public, the illuminated space which utilises spot lighting  whilst being very spatially aware makes the shopping experience pleasant and gives ease to the usually stressful task of bathroom renovation.
We wish the branch the best of luck in their future endeavors and hope for the continued growth of our working relationship.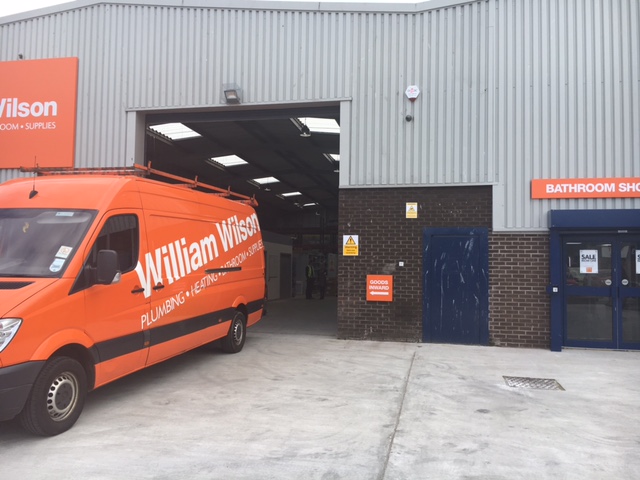 As well as our branch visit, we were also happy to play host to Wilson's managers meeting within our Govan based head office. 
During this visit members of Wilson's management team were also given a tour of our 60,000 sq ft manufacturing facility courtesy of our Sales Manager Kevin Nicoll, as well as undertaking training on our new RapidFit MFC and Compact ranges - headed by our sales team. It is the hopes in this that the team would further their first hand knowledge of Rearo and our operation as well as product.
We again play host this evening in a social capacity as we take part in a team bonding, casual capacity as management team members enjoy a night of dining and entertainment. We look forward to continuously building on this working relationship.