Mock crocodile can seem a slightly intimidating concept for your walls, however we're on hand to provide a step by step guide on creating your new bathroom space. We'll be taking you from fear of the unknown to zen paradise.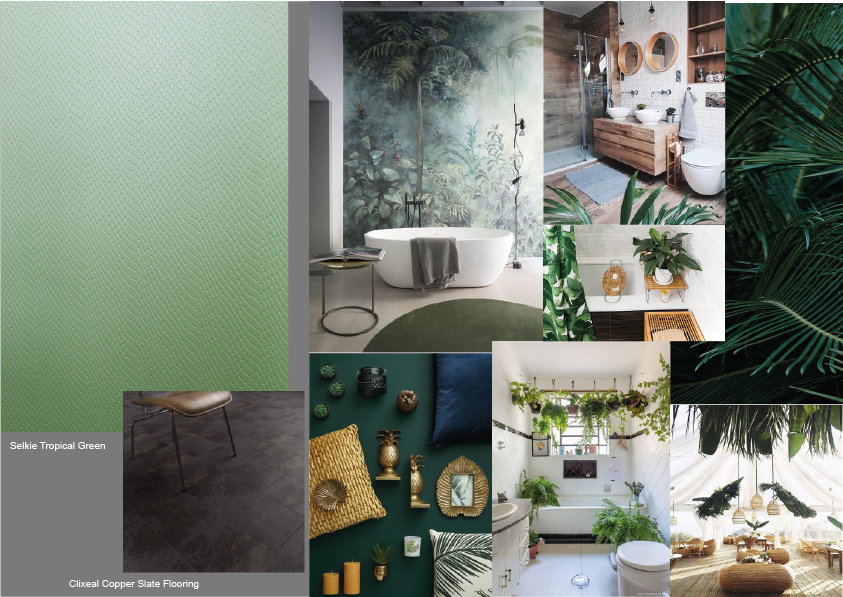 Begin with a moodboard, starting on the basics of wall and floor options.  
Our highlighted décor Selkie Tropical Green is a bold yet understated pastel shade, so to create some definition, opt for a floor with grey or black tones.
Once the groundwork has been completed, begin to source some of your favourite images based around your chosen style. Pinterest, Instagram, blogs and interiors magazines are the perfect source.
Then, from your images, pick out any common areas you've noticed and from there it's up to you to give your walls some life.
We have styled around the key points of:
Greenery/ plant life
Natural wood (wicker and bamboo)
Freshness and open space
Coordinated placement
Greenery was introduced in the form of Ikea's artificial wall squares and via a floor plant. Vertical gardens are a predicted top trend for 2020 so get ahead of the crowd.
Natural fibre wood accessories were then selected to decorate the room. Removable items such as mats and room dividers allow for easy updates when you're feeling a little tired of the décor.
The final arrangement was all about placement. To keep an open plan layout items were kept to the edges of the room to keep roaming space in the centre.  The room divider acted as a subtle space filler in the corner area and a bamboo mat was used to break up the monotony of the flooring. 
Take all of the above in to consideration and you can create your own interpretation of our tropical zen space. For further inspiration: https://bit.ly/2FeBqpT